Features
Paper Presentation
Continuing Rehabilitation Education (RCI-CRE-12 Points)A/F
Virtual Learning
Experienced Panels and Experts
Target audiences
Clinical Psychologist
Counsellors
Educators and Teachers
Therapist
Volunteers
Parents
Introduction
Willingness to listen patiently, and maintain a strong therapeutic rapo, exhibit concern (empathise), be persistent (energy) and work with clients on mutually agreed goals are essential qualities of a counsellor.
If the counsellor is truly a wound healer, he or she may well go beyond what would be considered exemplary practice because of increased sensitivity and understanding of what it feels like to be hurt and what it takes to heal.
NSMH04 on Ethics and Standards for counsellors is useful:
To identify Counseling Skills of counsellors.
To discuss professional code of ethics in counselling.
To choose strategies for personal and professional self evaluation and implications for practice.
NSMH-04: ETHICS AND STANDARDS FOR COUNSELLORS
Approved by the Rehabilitation Council of India (RCI)
In association with Institute of Human Behaviour and Allied Sciences (IHBAS)
Organised by Manovikas Charitable Society
On the Manovikas eGyanshala online learning platform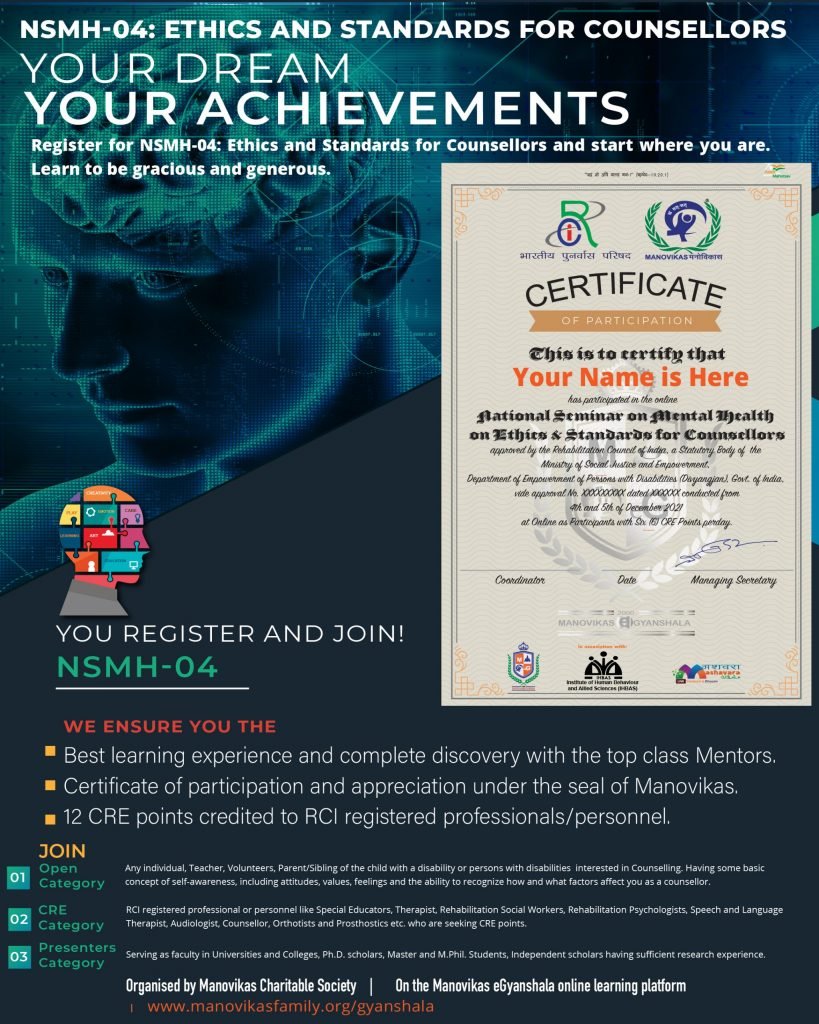 YOUR DREAM YOUR ACHIEVEMENTS
Register for NSMH-04: Ethics and Standards for Counsellors and start where you are. Use what you have. Do what you can. If you want to be the best Counsellor, start focusing on the skills, knowledge, aptitude and attitude you have!
Your career must have a plan and NSMH-04 is here to help "get what you plan for". Learn to be gracious and generous.
This is the 4th National Seminar on Mental Health, and attracts top class academicians, doctors, researchers, educators, therapists, social workers, psychologists and practitioners. It features keynote speakers. Enjoy! insightful presentations on recent research.
WE ENSURE YOU THE
Best learning experience and complete discovery with the top class Mentors.
Certificate of participation and appreciation under the seal of Manovikas.
12 points credited to RCI registered professionals/personnel.
16 CRE points to the presenters.
YOU REGISTER AND JOIN! NSMH-04
Open Category
Any individual, Teacher, Volunteers, Parent/Sibling of the child with a disability or persons with disabilities interested in Counselling. Having some basic concept of self-awareness, including attitudes, values, feelings and the ability to recognise how and what factors affect you as a counsellor.
CRE Category
RCI registered professional or personnel like Special Educators, Therapist, Rehabilitation Social Workers, Rehabilitation Psychologists, Speech and Language Therapist, Audiologist, Counsellor, Orthotists and Prosthetics etc. who are seeking CRE points.
Presenters Category
Serving as faculty in Universities and Colleges, Ph.D. scholars, Master and M.Phil. Students, Independent scholars having sufficient research experience.
CALL FOR PAPERS AND POSTERS
The NSMH-04 seeks to provide a forum for addressing critical issues under the TITLE OF "ETHICS AND STANDARDS FOR COUNSELLORS"
Following Sub Themes have been identified for an in-depth discussion in the seminar:
Strength, limitations and resources of Counsellors
Problem solving and critical thinking abilities
Competent professional behaviour of counsellors Ethical behaviour of counsellors.
Maintaining a therapeutic relationship
Assessment of Counselling process Quality counselling services
Professional development for the Counsellors
NOTE: The above mentioned list is not exhaustive. You may also discuss other themes related to the title
DR. A. T. THRESSIA KUTTY'S APPRECIATION
AWARD worth Rs.10,000, shall be given to the best three overall Paper or and Poster Presenters in the NSMH-04.
Dr A. T. Thressia Kutty is a Veteran of Vocational Training and Employment for persons with IDD. Formerly she was faculty at the National Institute for the Empowerment of Persons with Intellectual Disabilities, Secunderabad.
SUBMISSIONS OF ABSTRACT ARE OPEN TILL NOVEMBER 20, 2021
READ GUIDELINE https://manovikasfamily.org/gyanshala/atkuttyappreciation/
MAKE YOUR CHOICE FOR JOYFUL LEARNING!
Join NSMH-04 at Manovikas eGyanshala (MeG). We ensure that you will realise a joyful learning in your lifetime. Enjoy the top-notch activity-based, functional, academic learning with critical thinking, positive mental health support through interdisciplinary, multi-lingual and holistic inclusive support. MeG is the best flexible portal that offers the opportunity to learn at your own pace, according to your own needs.
NATIONAL SEMINAR ON MENTAL HEALTH (NSMH-04)
PATRON
MRS. STUTI KACKER, IAS RETD.
Former Secretary,GOI, Department of Disability Affairs, MSJE
Chairperson, National Commission for Protection of Child Rights
Chancellor, Subharti University
Patron, Manovikas Charitable Society
MENTORS
MRS. ALOKA GUHA
Former Chairperson
National Trust, MSJE, GOI
DR. ROMA KUMAR
Vice Chairperson (Psychology)
Sir Ganga Ram Hospital
DR. HIMANGSHU DAS
Director NIEPVD
Former Director, NIEPMD and NIEPID
CHAIRPERSON
Dr. Nimesh G. Desai
Professor in Psychiatry
Director, Institute of Human Behaviour and Allied Sciences (IHBAS) President, Manovikas Charitable Society
ACCOMPLISHED TEAM
Moderator
Mr. J. C. Gupta
Sn. Rehabilitation Consultant
Advisor, Manovikas Institute for Higher Education
Convenor
Dr. Alok Kumar Bhuwan
Consultant Rehabilitation Specialist Managing Secretary,
Manovikas Charitable Society
Coordinator
Mrs. Indira Alok
Principal, Manovikas School for Inclusion
Organising Members:
Sh. M.M. Vidyarthi
Chairperson, Advisory Committee, Manovikas
Dr. Deepak Kumar
HOD, Dept. of Psychiatry, IHBAS
Dr. Jahanara M Gajendragad
HOD, Dept. of Psychiatric Social Work, IHBAS
Dr. Alka Ajuha
Vice President, Manovikas
Mr. Anand Maheshwari
Governing Board Member, Manovikas
Dr. Praveen B. Yanawar
Dept of Psychiatric Social Work, IHBAS
Mrs. Namrta Amar
Governing Board Member, Manovikas
Dr Pooja Jha Nair
Founder-Director at TotalSolution4Learning
Mrs. Sangeeta
Prog. Coordinator, D.Ed. Spl Edu (IDD)
NSMH-04 MAKE FUTURE IN COUNSELLING
The NSMH-04 as the Continuous Rehabilitation Education (CRE) approved by the Rehabilitation Council of India, a Statutory Body of the Ministry of Social Justice and Empowerment, Department of Empowerment of Persons with Disabilities (Divyangjan), Govt. of India, involve education in the ethics and importance of public purpose, an education in the discipline, and an education for practice. It also involves critical and interdisciplinary thinking, discussion, debate, research, and innovation. Professional Education is not limited to the counselling speciality.

TIMELINE: Early bird Registration by November 20, 2021 (Fees-Rs.600) and
Registration Ends by December 1, 2021 (Fees-Rs.1000). Submission of Abstract for Paper or Poster Presentation before November 20, 2021 and final paper and presentation by November 25, 2021.
Date and Time:
4th & 5th of December 2021 10:00 am to 5:00 pm
PLATFORM: www.manovikasfamily.org/gyanshala
And ZOOM
REGISTRATION: You need to register or login: https://manovikasfamily.org/gyanshala and select the Course: NSMH-04: Ethics and Standards for Counsellors, then Add to Cart and Pay the Fees. After payment you will receive the email, msg and able to access the courses from same login ID and Password
PRESENTATIONS: Please send an abstract of the paper and poster presentation only online at the MeG website before November 20, 2021. Our Review Committee will guide you through the email: nsmh@manovikas.family.
SUPPORT: Please write an email on nsmh@manovikas.family. Call or message on mobile no. 9911107772, you can send comment or chat on MeG website https://manovikasfamily.org/gyanshala
7 STEPS FOR REGISTRATION
1 Go to website https://manovikasfamily.org/gyanshala/
2 Click Register or Login and complete the details
3 Go to Programme/Courses and Click as per your desired or NSMH-04
4. Click Add to Cart on Programme/Courses Page
5. Complete Billing Details
6 Select any Payment method from options Card/UPI/Net banking etc.
7 Complete details of Payment method you have selected and Pay
8 After payment you will receive the email, msg and able to access the courses from same login ID and Password from the website https://manovikasfamily.org/gyanshala/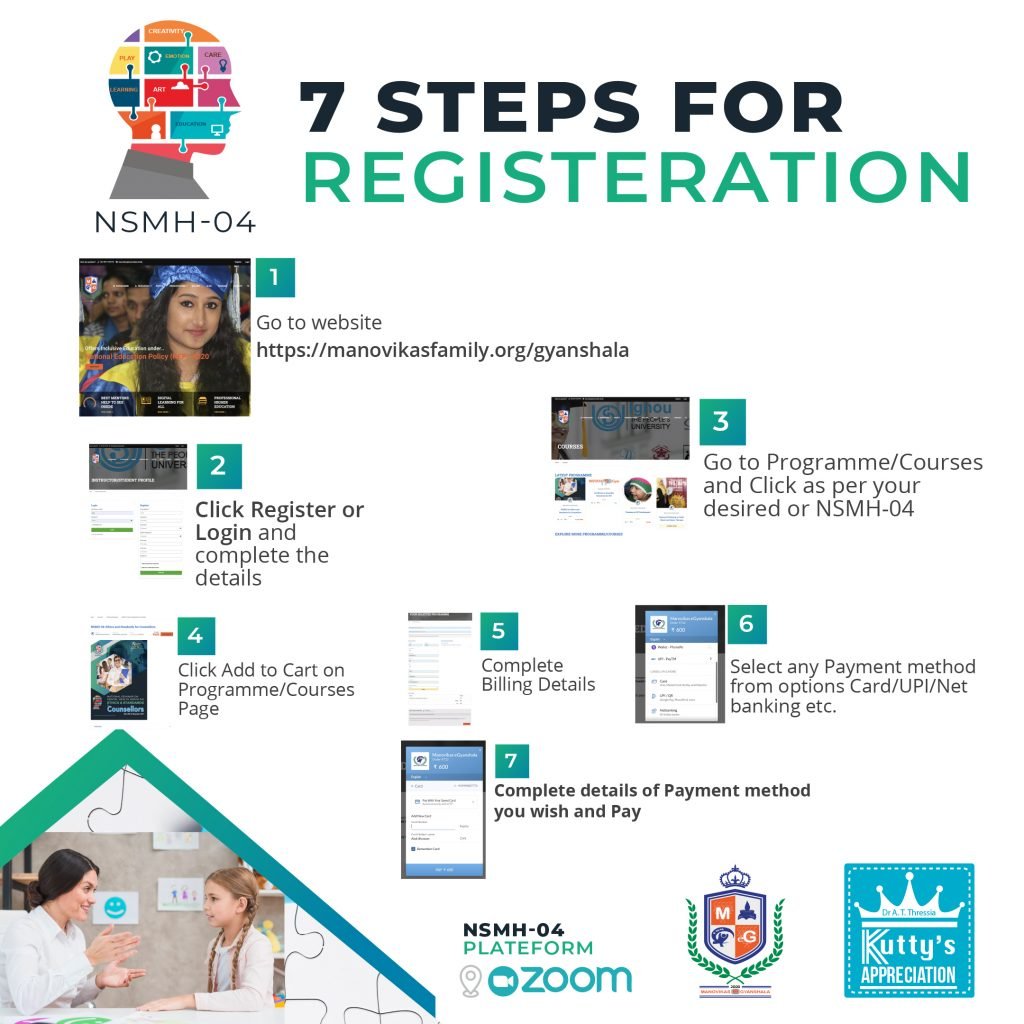 Course Features
Lectures

21

Quizzes

7

Duration

365 days

Skill level

All levels

Students

273

Certificate

Yes

Assessments

Self