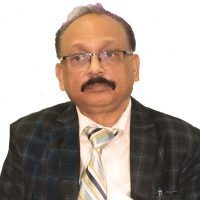 Dr. Sanjay Kant Prasad
Resource Person
Former Dy. Chief Commissioner for Persons with Disabilities (Divyangjan), Deputy Director, National Centre for Disability Studies Indira Gandhi National Open University
Post Graduate and Doctorate in Psychology with specialization in Clinical and Rehabilitation Psychology having more than 30 years of experience in the field of Disability Rehabilitation programmes, policies, education and research.
An academic of Indira Gandhi National Open University in the capacity of Deputy Director.Also served as Director I/Cof National Centre for Disability Studies, IGNOU, Programme Officer – DEP-SSA, MHRD-IGNOU projectand Sr.Programme Officer- Rehabilitation Council of India (RCI).Developeddifferent level of academic and professional programmes, coordinated & implemented for training and development of service providers to work in the field of Disability rehabilitation.
Presentlyon deputation as Deputy Chief Commissioner in the O/o Chief Commissioner for Persons with disabilities, D/o Empowerment of Persons with Disabilities (Divyangjan), M/o S J & E, Govt. of India. Achievement in the working profile includes, working for care and cause of Person with disabilities and making effort for their equal participation in every walks of life. Sensitizing appropriate govt. and non govt. organizations for creating accessible environment as per Rights of Persons with Disabilities Act, 2016, monitoring and review of existing programmes policies and schemes of government of India meant for persons with disabilities.
Authored a book entitled "Psychological Management of Disability" and contributed a chaptertitled "The Sustainable Development of Persons with Disabilities in Developing Countries through Open and Distance Education" inedited book namely Optimizing Open and Distance Learning in Higher Education Institution (2018), published by IGI Global USA.